ALPhANOV delivers a versatile laser source
ALPhANOV delivers a versatile laser source as part of the MIRACLE project.
MIRACLE project (Mid InfraRed Advanced superContinuum LasEr), funded by the DGA, aims to develop a mid-infrared supercontinuum laser source.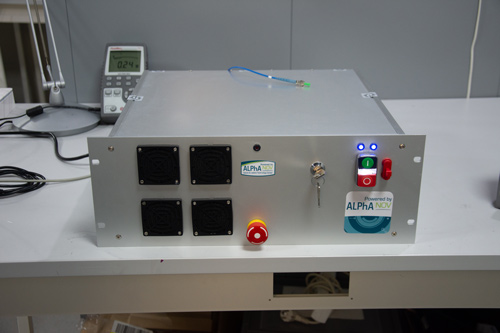 The role of ALPhANOV in this project is to develop a laser emitting at a wavelength of 2 μm and operating in pulsed picosecond (ps) or sub-nanosecond (ns) mode. This laser will be used as a pump for the generation of supercontinuum in the fluoride fibers developed by "Le Verre Fluoré". LEUKOS is the coordinator of the project but also the final integrator of the product. Another innovative aspect of this project is the development of splicing processes between silica glass and fluoride glass. This innovation will also be realized by ALPhANOV.
The pulse width of the delivered laser is about 400 ps at the operating wavelength of 2 μm, with 800 kHz repetition rate and the average power is over 6 W. This laser is the main deliverable of the first phase of this project.
Such a source can also find applications in optical detection, spectroscopy, biophotonics, food and chemical analysis.