ALPhANOV has designed a four-point laser rig for laser fault injections on integrated circuits.
As part of the collaborative PILAS project, ALPhANOV has developed a microscope platform that enables the simultaneous injection of four independent laser beams through a microscope lens. This new process aims to improve the security of integrated circuits.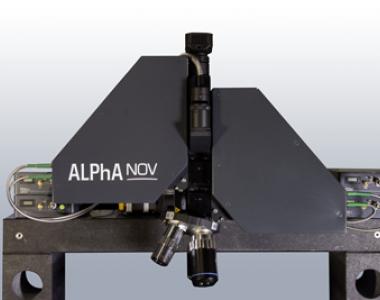 The PILAS (Advanced Laser Injection for Security Analyses) project aims to develop an injection system and methodology for advanced multipoint faults using three to four laser beams. The objective is to put forward possible software and hardware implementations, with specific countermeasures. These implementations will provide embedded product developers with protection from fault injection attacks on differing levels and attack scenarios. The project will help to bring new and more secure circuits and products to the market. Supported by the Direction Directorate General of Armaments (DGA) and the National Agency for the Security of Information Systems (ANSSI), the PILAS project brings together all parts of the embedded security chain: a licenced laboratory (Serma Safety & Security), a component and embedded software developer (Idémia), a semiconductor manufacturer which is one of the world's largest secure circuit producers (STMicroelectronics), an internationally recognized academic team (Hubert Curien Laboratory) and a supplier of analysis tools (ALPhANOV).
After several months of work, ALPhANOV has made the microscope platform available to its partners, allowing for the simultaneous injection of four single-mode laser sources. This platform, consisting of a high transmission infrared microscope and four single-mode PDM (Pulse-on-Demand Module) type sources, can generate pulses on demand at 1ns per CW. Each laser point, with a spatial accuracy of 1-3μm, can move independently in the lens field to inject into multiple strategic points. The system also incorporates a high-definition infrared display that allows the user to view the circuit from its back side and to manoeuvre the laser point with precision.