Launch of a new laser source: MIR-PULS
ALPhANOV launches a new laser source from the PULS range: MIR-PULS.
The MIR-PULS is a new tunable fiber laser source with pulse duration below 300 fs and near-infrared tunable wavelength in the range 1800 - 2100 nm.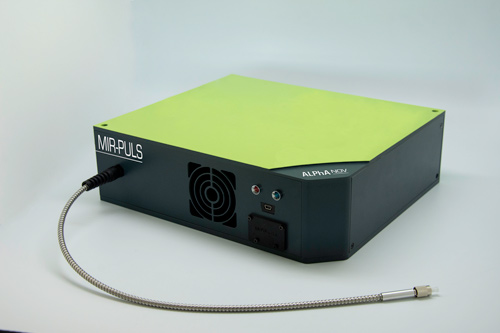 MIR-PULS builds on ALPhANOV's legacy of modeling and design of fiber laser sources and components. As part of the PULS range, the MIR-PULS provides 20 mW of TFL pulses below 300 fs at 40 MHz over a spectral range of 1800 to 2100 nm.
MIR-PULS can be employed for applications such as bio-imaging, spectroscopy or oscillators for Thulium / Holmium based amplifier systems.
Always attentive to the customer needs, ALPhANOV proposes to customize its lasers and proposes tailor-made solutions to meet your most ambitious requests.