PDM laser sources - Pulse-on-demand Modules
PDM laser sources are specially designed for security evaluation of integrated circuits. Reliable and robust, these laser sources enable generate on demand pulses from 1 ns, up to continuous wave with a timing precision of 8 ps and a spot size of 1 µm. Whether this is for fault injection or for thermal stimulation, Pulse-on-Demand Modules (PDM) lasers are ideal to evaluate and analyze integrated circuits.
Product references: PDM-HPP / PDM+ / PDM+ HP / PDM2+ / PDM2+ HP / PDM4+ / PDM4+ HP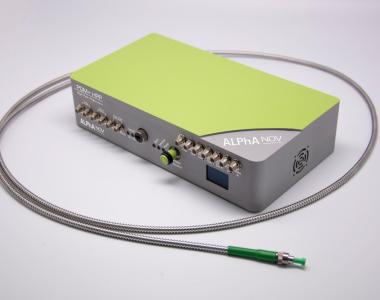 Temporal agility
The principle of PDM (Pulse-on-Demand Module) laser sources is to be able to generate the optical pulse request via an external triggering signal or an internal pulse generator. These sources allow you to have all the agility and the timing precision for fault injection on integrated circuits. Typically, PDM laser sources can generate:
variable pulses going from one nanosecond to continuous wave
from single pulse shot up to 250 MHz
timing precision on arrival of pulse <8 ps
The laser sources can be driven by analog signal or by computer with dedicated software or hexa commands.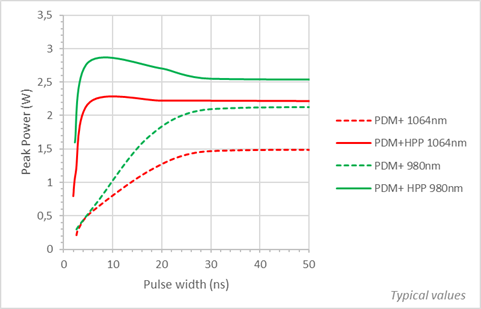 The last PDM unveiled by ALPhANOV is the PDM-HPP (High Pulse Performance). This laser source is more efficient, achieving maximum power 5 times faster than traditional PDM. This source is ideal for ensuring there is enough power for injecting faults with very short pulse duration (1ns) and for more effectively assessing the safety of increasingly fast components.
The PDM-HPP also incorporates advanced delay generation functionalities which allow the user total time flexibility in optical pulses.
A wide range of PDM+ laser sources adapted to your projects: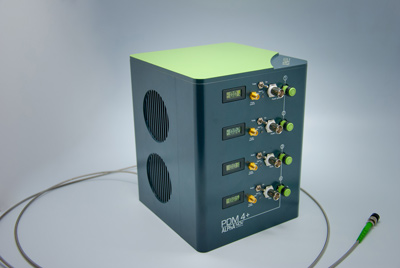 ALPhANOV offers different types of PDM laser sources:
The PDM HPP - High Pulse performance, ideal for ultra-short pulses.
The standard PDM+ generating pulses up to 2 W peak power.
The PDM+ HP (high power), generating higher power pulses, up to 3.9 W
The PDM2+ & PDM2+ HP combining two PDM+ modules into one output fiber, up to 4.5 W 
The PDM4+ & PDM4+ HP combining four PDM+ modules into one output fiber, up to 10 W 
All of these PDM are available at different wavelengths such as 808, 980,1064 and 1420 nm.
The precision and reliability of a single-mode fibered laser
All PDM laser sources are single-mode and all fiber designed. They allow generation of Gaussian and extremely fine laser spots. All the power of the laser source can be available on a spot size of 1 µm.
This all-fiber design module is reliable and robust with a low-maintenance cost. 
Driven by software, DLLs and by Python. 
PDM+ laser sources are software controlled. DLLs are provided and serial port communication enables to control it under different environments, particularly using Python.
Product features
Wavelengths: 808 nm, 980 nm, 1064 nm, 1420 nm
Pulse duration: 1 ns to continuous wave
Frequency: single pulse to 250 MHz
Peak power: up to 10 W
Spot size: up to 1 µm (single-mode source)
Type: single-mode fiber laser
Control: software included, RS232 communication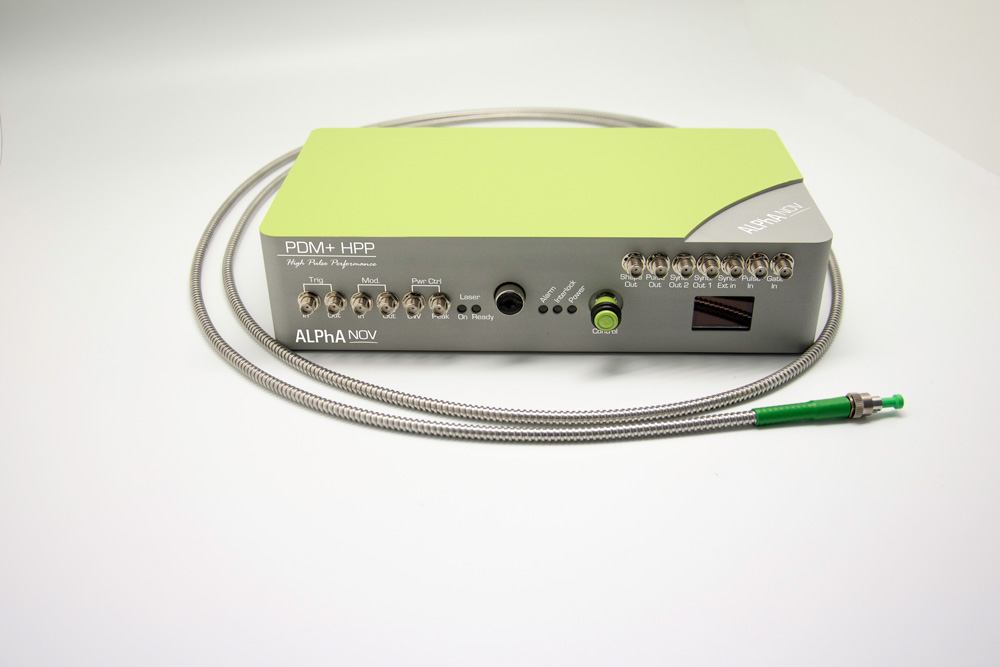 Associated products or services