Pulse Picker synchronization board – up to 200 MHz input / 20 MHz output
Pulse Picker is a synchronization tool to drive external modulating devices such as EOM, AOM, SOA etc. It has been especially designed to work with low level of electrical or optical input pulses power.
This Pulse Picker board includes a software adjustable input voltage level threshold and an (optional) photodiode. This makes it an ideal tool for the synchronization of various instruments.  
This board also includes a special AWG function synchronized with the input signal to perform some burst shaping of mode-locked lasers. To get a good overview of its key functionalities follow the application note: pulse-picker. It works perfectly well to synchronize any AOM devices.
This Pulse Picker board can also be used as a Standalone Generator, Digital Delay Generator, frequency divider, or Burst generator.
These products are now offered by AeroDIODE,

a new ALPhANOV spin-off company. The product manager is available to answer any technical of commercial question.
Product reference: Pulse Picker
Key features
Max Input frequency: 200 MHz

Max output frequency: 20 MHz

1 V/3.3 V/5 V output voltage

Min input voltage: < 30 mV 

<80 ps RMS jitter

Burst/Gate generator 

USB interface with many Libraries and GUI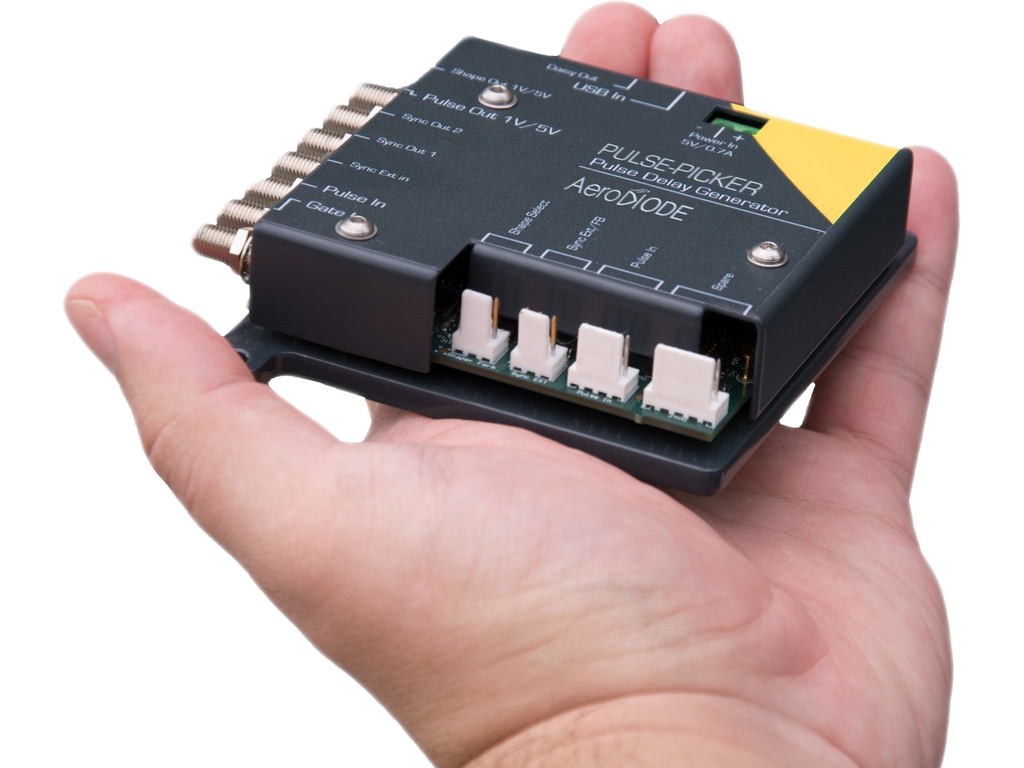 The GUI software lets the user have total control of all module functions. It includes several libraries for software integration (Labview VIs, DLLs, Hexa, Python etc.).
Datasheet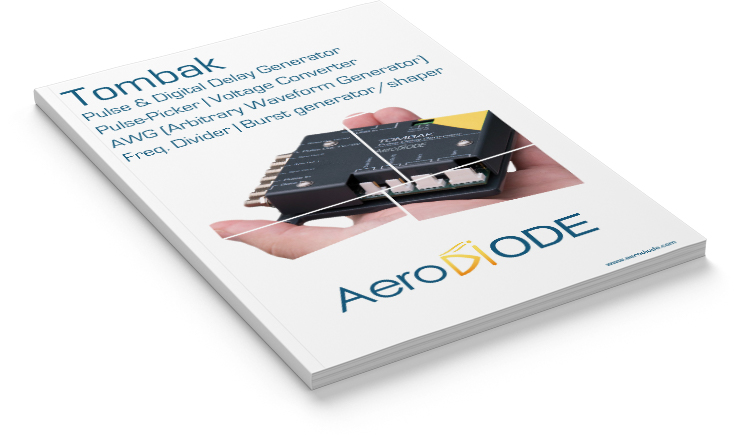 This pulse picker works alone or in series with other products in our range like:
Complex systems, such as fiber lasers, can be quickly developed on this module platform. It is also an ideal tool for LIDAR 1D/3D-sending test platforms.
This pulse picker is part of our "Multiboard" laser driver and synchronization modules family. All the using cases are explained in a well detailed digital delay generator user manual.
Specifications 
Pulse_Out (SMA)

Delay

10 ps to 1000 s

Delay resolution

10 ps

Adjustable output level

1 V / 3.3  V / 5 V_TTL

Ouput impedance

50 Ω (recommended)

Rise time

< 1 ns typical

Max output rate

20 MHz

Jitter (100 ns delay)

< 80 ps RMS

Pulse_In (SMA)

Input voltage threshold

30 mV - 3.3 V software adjustable

Max input rate

200 MHz

Insertion delay

12 ns (voltage converter only)
15-25 ns ajustable (direct mode)
70 ns (other modes)

Internal pulse generator

Pulse width

5 ns to 1000 s

Pulse width resolution

2 ns

Sync Ext/Gate inputs (SMA)

Input voltage

30 mV to 3.3 V (adjustable threshold)

Max input rate

20 MHz

Divider/prescaler

Division range

De 1 à 109

Voltage converter

Max input frequency

150 MHz

Jitter

< 30 ps

Pulse Picker

Max input/output frequency

200 MHz / 20 MHz

Burst/gate generator

Number of pulses

De 1 à 109

Trig-to-pulse delay

Adjustable

Intra burst resolution

5 ns

Compatibilities & libraries

Windows 7/10 ; DLLs, Hexa, Labview VIs, Python.
Synoptic

These products are now offered by AeroDIODE,

a new ALPhANOV spin-off company.
Associated products or services