Multi-channel laser diode driver – CW or Pulsed – up to 8 channels
This laser diode driver & temperature controller allows full independent control of up to 8 laser diodes from CW down to very short pulses. It includes several functions including a pulse generator and a very low noise current and modulation driver. 

This multi-channel laser diode driver is a precision module able to drive simultaneously and independantly several laser diodes in any operating regime. The current level ranges up to 4 A in pulse regime and 2.5 A in CW with a current resolution down to 0.05 mA. 
Whereas it is dedicated for fiber coupled laser diodes, it is compatible with any type of laser diode form factor. 
The performances of this laser diode driver have been optimized to be compatible with many applicative constraints in term of noise, ripple, resolution, current and temperature ranges, Jitter etc. 
It is controlled by an easy-to-use graphical interface and contains more than 6 connectors per laser diode for various external analog input/outputs. 
These products are now offered by AeroDIODE,

a new ALPhANOV spin-off company. The product manager is available to answer any technical of commercial question.
Product references: Multidiode-2 ; Multidiode-4 : Multidiode-8
From CW (Continuous Wave) down to 1 nanosecond pulse width

Ultra low noise and ripple

Full independant control of 

CW/Pulse duration,

Peak/CW powers, 

Pulse rep rate, 

Compliance voltage, 

Pulse overshoot, 

Chip temperatures…  

Zero insertion force mounting sockets for any Butterfly or others (TOSA etc.) 

Fiber management with optical power sink

Several photodiode inputs for full optical power control when needed

Analog voltage signal remote controls and USB interface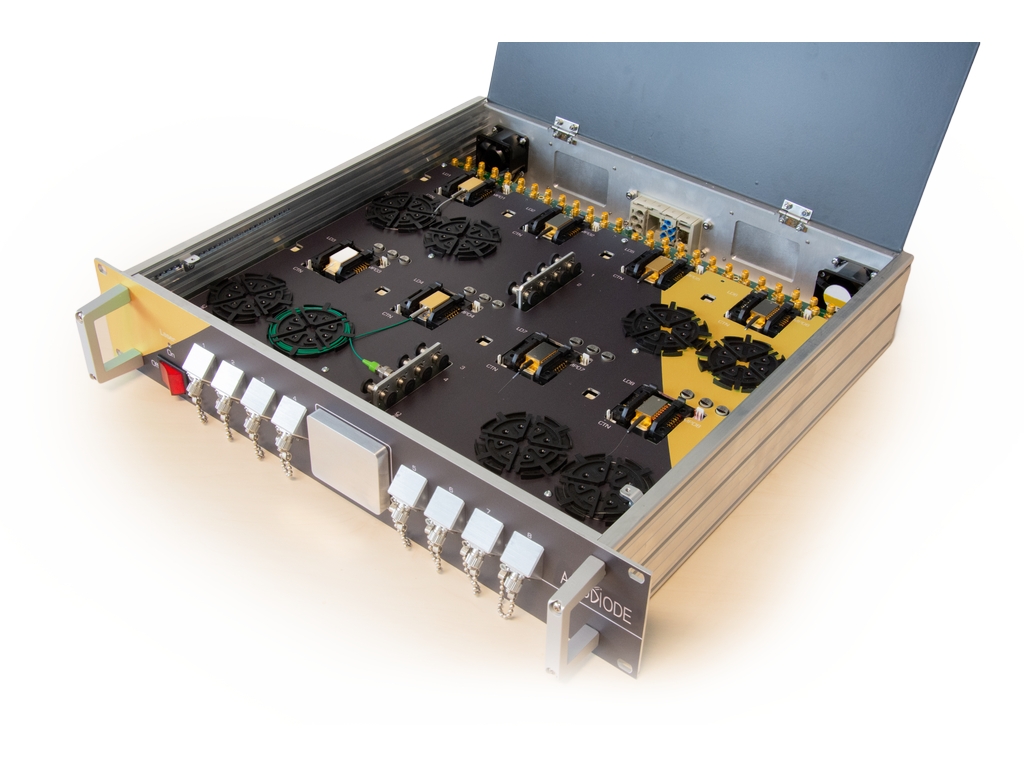 The GUI software lets the user have total control of all module functions. It includes several libraries for software integration (Labview VIs, DLLs, Hexa, Python etc.).
Datasheet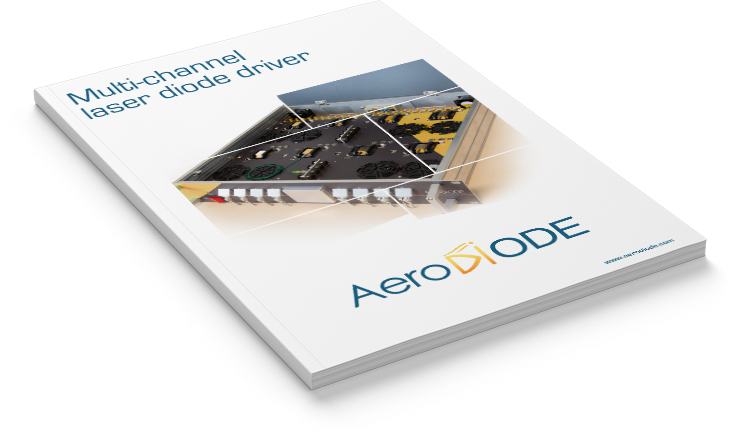 This laser-diode-driver works alone or in series with other products in our range like:
Complex systems, such as Multidiode gas sensing or Multidiode imaging, can be quickly developed with this laser diode driver platform. This laser diode driver product is part of our "Multiboard" laser driver and synchronization modules family. 
Specifications
Product

Centrale
2 independant channels
Multidiode-4
4 indepedant channels

Multidiode-8




8 indepedant channels

Number of Channels

2

4

8

Current range (CW)

0 - 1500 mA (ch.1) /
800 mA (ch.2)

0 - 2500 mA

Current range (pulsed peak current)

0 - 3500 mA

0 - 4000 mA

Laser drive current setpoint accuracy

From 0.05 to 0.5 mA

Laser drive current stability

<0.1 mA

<0.01 mA

Compliance Voltage (adjustable)

<5 V

1 - 24 V (user adjustable)

Pulse duration

1 ns to CW

Pulse repetition rate

0 - 200 MHz

0 - 250 MHz

Pulse overshoot (adjustable)

-

Down to 0%

Diode chip temperature range (°C)

10 - 55

0 - 90

BFM/Ext photodiode measurement

Yes(option)/Yes (up to 6)

Yes/Yes (1per diode)

Adj. CW offset in pulse regime

Yes

Yes

Internal/external current modulation

No

Yes

Dimensions (mm)

210*123*36.5

2U -19 '' Rack; depth: 400 mm
PIN configuration
GUI interface
These products are now offered by AeroDIODE,

a new ALPhANOV spin-off company.
Associated products or services