Pulsed laser diode driver & TEC control
This pulsed laser diode driver with high speed performances and integrated TEC controller generates any pulsed or CW optical signal from 1 nanosecond to CW.
CCS is a very compact and modular module which can be delivered with or without mounting sockets for butterfly laser diodes. Optimized for single-shot to CW performance with pulse width lengths down to 1 nanosecond, this pulsed laser diode driver with integrated TEC controller delivers precision pulses which are generated internally by an on-board pulse generator, or on demand from an external TTL signal. 
It is the most compact device with such performances and this makes it an ideal tool for OEM integration into your product.
Product reference: CCS
 
Key features
User set pulse width from 1 ns to CW
Integrated TEC controller
Up to 4 MHz repetition rate (250 MHz optional)
Down to 500 ps risetime
Up to 1500 mA peak current (3500 mA option)
USB, manual, & analog (0-5 V) signal peak power adjustment
Smart control (USB interface)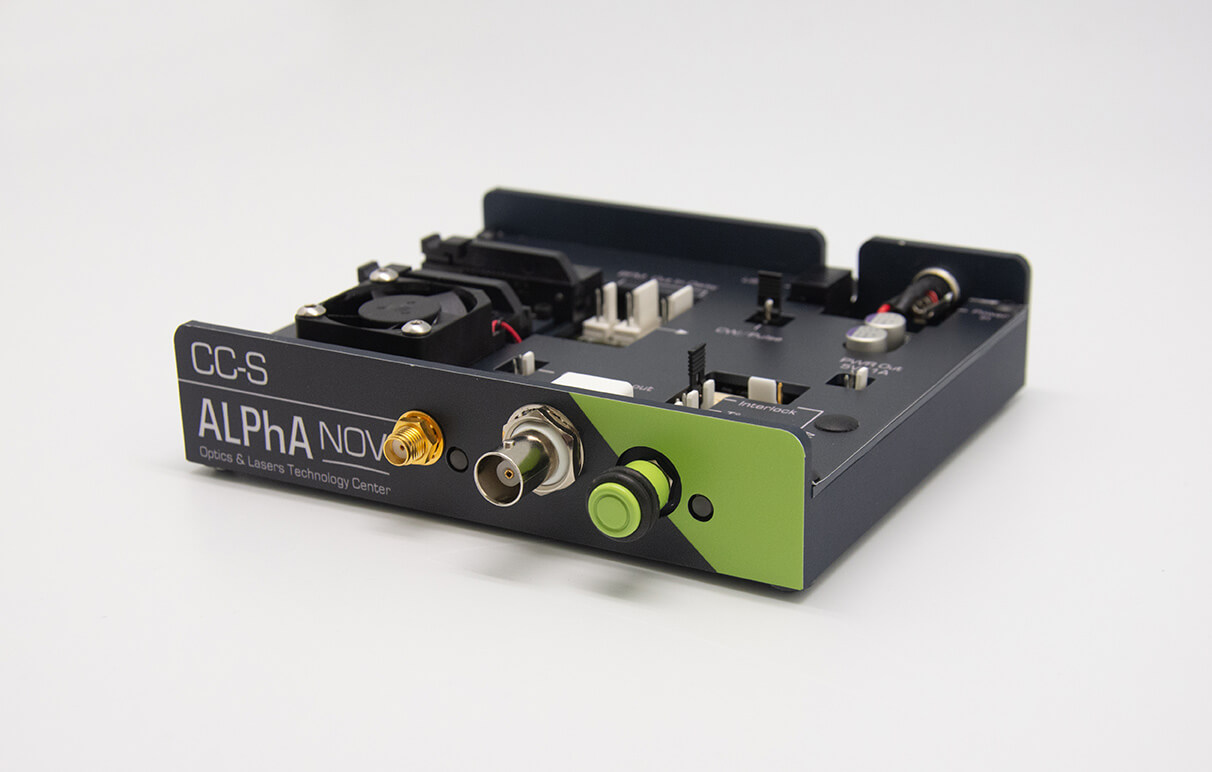 The GUI software lets the user have total control of all module functions. It includes several libraries for software integration (Labview VIs, DLLs, Hexa, Python etc.).
Datasheet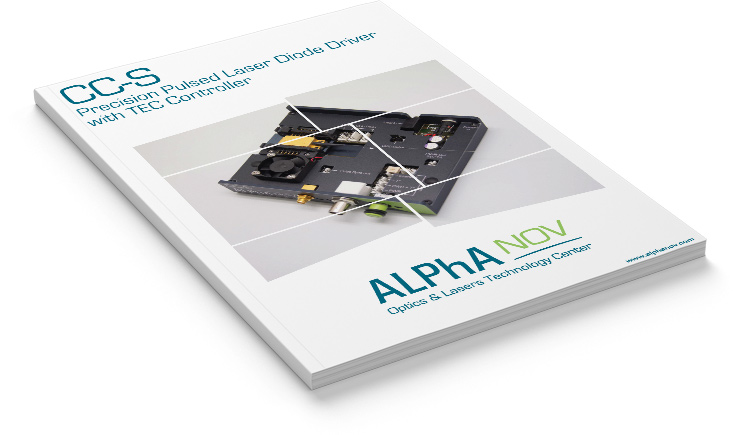 This pulsed laser diode driver works alone or in series with other products in our range like:
Complex systems, such as fiber lasers, can be quickly developed on this module platform.
Specifications
 
Standard version
HP (High Power)
UHP (Ultra High Power)
HPP (High Power Performance)

Output current (pulse regime)

1.5 A
3.5 A
9 A
4 A

Output Current (CW regime)

0.8 A
1.5 A
2 A

Output voltage range

up to 4.8 V
up to 5/10 V
1 - 24 V (adjustable)

Laser diode T° range

15 - 50°C

Pulse duration (external pulse trigger)

0.5 ns - CW

Pulse duration (internal pulse generator)

0.5 ns - 500 ns
0.5 ns - CW

Typ rise/fall time (TO/butterfly/VCSEL)

1 / 3 / 0.5 (ns/A)
0.5 / < 1 / 0.5 (ns/A)

Internal rep rate adjustment

1 Hz- 4 MHz
1 Hz - 10 MHz (250 MHz optional)
1 Hz - 250 MHz

Temporal Jitter

< 25 ps
< 8 ps

Adj. CW offset in pulse regime

No
Yes

Interface/GUI/libraries

USB - Windows X¨P/7/10 - DLLs - Hexa - Labview - Python
Dimensions
130*119*28
170*107*27.5
Power supply
12 V (110 - 220 V adapter included)
24 V (adapter included)
Synoptic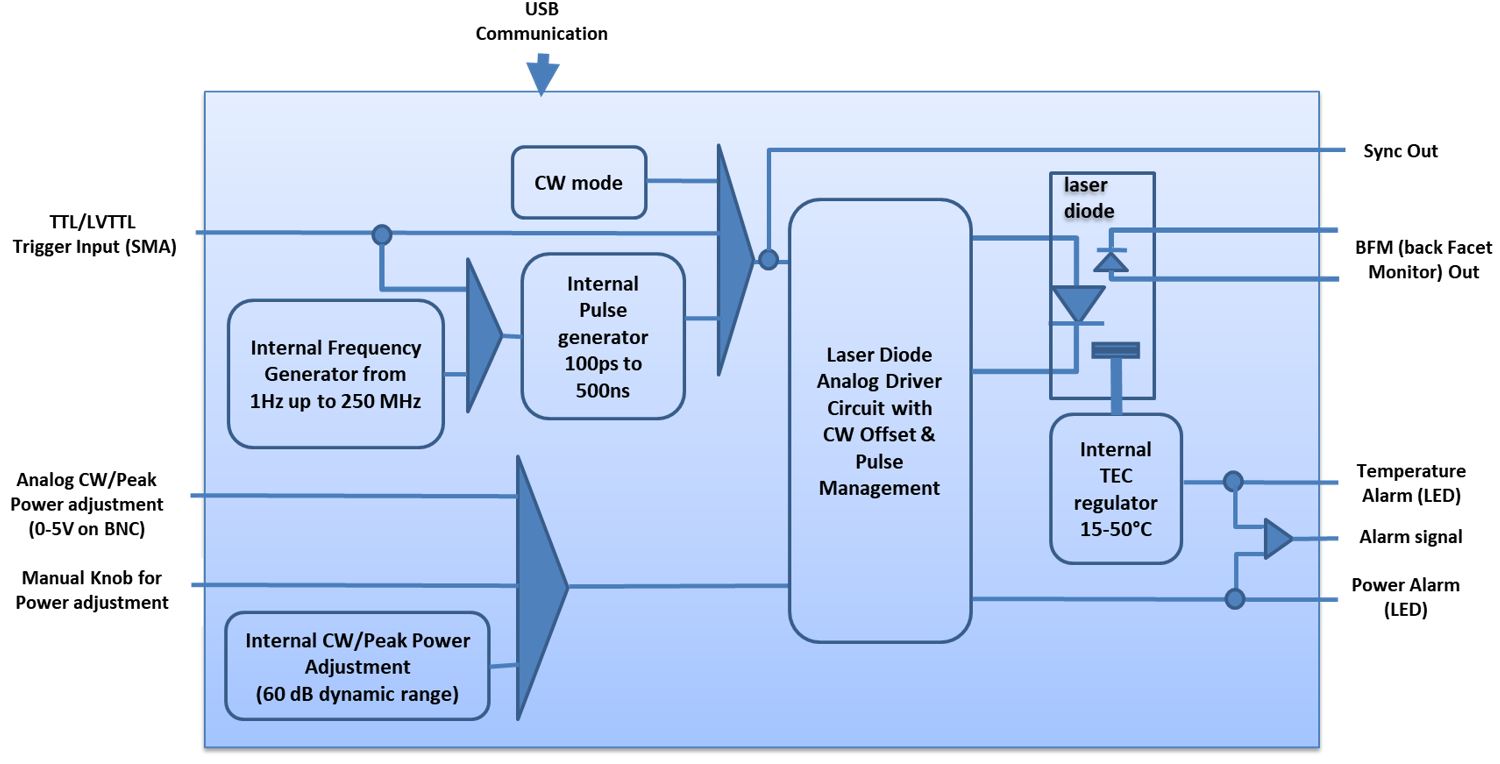 Applications
Laser seeding
LIDAR testing
VCSEL evaluation (no socket version)
Associated products or services